I am like Suzumi
- Webmistress


You are a very serious and calm person, though you can be angered easily by smaller "unimportant" things. A past love ended in tragedy and you can become lost inside if reminded of the subject.

View My Guestbook
Sign My Guestbook


Aya Fujimiya's Profile

Name: Aya Fujimiya
Real Name: Ran Fujimiya
Weapon: Katana
Code Name: Abyssian
Birthday: July 4th
Blood Type: A
Age: 20
Flower: Rose
Ken Hidaka's Profile
Name: Ken Hidaka
Weapon: Bugnuk (Tiger's claw)
Code Name: Siberian
Birthday: December 23rd
Blood Type: B
Age: 19
Flower: Gentian
Omi Tsukiyono's Profile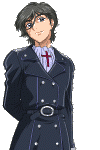 Name: Omi Tsukiyono
Real Name: Mamoru Taketori
Weapon: Darts, crossbow, bow and arrows
Code Name: Bombay
Birthday: February 29th
Blood type: O
Age: 17
Flower: Freesia
Yohji Kudou's Profile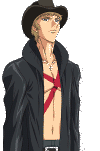 Name: Yohji/Yoji Kudou
Weapon: Wire
Code Name: Balinese
Flower: Cattleya
Age: 21
Height: 182 cm
Blood Type: AB
Birthday: March 3
The Takatori Clan's Profile
Reiji Takatori
Responsible for putting Aya's sister in a coma. Schwarz is assigned to be his bodyguards early in the series, but they abandon him at the end of episode 15, leaving him to the mercy of Aya's blade.

Hirofumi Takatori
Reiji's older son and personal secretary. Organizes sick and twisted human hunting games in episode 10, thereby becoming Weiss' target. Is killed by Omi in episode 11.

Masafumi Takatori
Reiji's younger son and president of the Korin pharmaceutical company. Is also a mad scientist who performs DNA-altering experiments on humans and transforms them into monsters. All for the sake of finding the potion to immortality for himself and his Schreient (see description below). Is killed by Weiss in episode 9 after transforming into a monster himself.